Toilet Repair & Installation
Toilets are an underappreciated fixture in our lives. We use them everyday, yet most of us don't pay attention to the details—or know that you have numerous sizes, styles and perks to consider. It's all about what you want out of your porcelain. Contact us today to discover more about our toilet repair & installation services.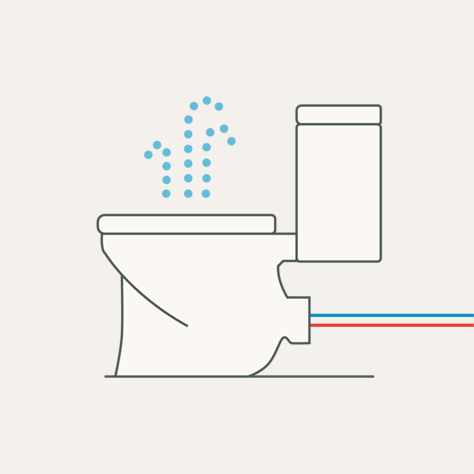 Common Toilet Problems
Clogged toilets
Improper installation
Leaking from failed seals
Replacing Your Toilet
From DIY kits to self-cleaning bidet seats that go way beyond the garden variety, the longevity of your toilet relies on both materials and installation. There are many bells and whistles like low-flow technology that can cut down on water usage, heated seats, and one-piece toilets that are easy to clean. No matter what style you choose, proper installation is essential.
The Importance of Proper Toilet Installation
Once you settle on a new toilet for your bathroom, it's important to ensure that the toilet is installed correctly to ensure its service life and eliminate any risk of water damage. The most important part of the installation is the wax ring that is positioned between the toilet and the flange, which acts as the seal. These parts usually last for about 30 years and ensure any water that's flushed down the toilet is going down the drain to the sewer line – and not anywhere else. If the wax ring isn't installed properly it could lead to leaks which, over time, can damage the bathroom flooring and ceiling of any rooms below. We ensure this critical task is completed correctly.
Other Toilet Issues
There are several other toilet issues that you'll want to be aware of, and many of them extend beyond just the traditional plunger to remove any clogs in the trap. One common issue is problems with the flush valve within the tank and not getting as strong of a flush to wash away waste. This usually occurs because the tank is not evacuating all of its water to provide the necessary pressure, which is often caused by the valve closing too soon. This problem can usually be resolved by replacing the valve or installing a new kit within the tank.
Another common toilet problem is a toilet that continues to run long after you flush. This is usually caused by water topping the overflow tube, which prevents the fill valve from stopping. This issue can be resolved by adjusting the float so that the water level stops in the tank before it rises to the overflow tube. If you notice your toilet running, you'll want to resolve it right away or else risk excessive water consumption and a much higher utility bill.
Contact Fix & Flow Today
For more information on toilet repair and installation, contact us today.