Shower & Bathtub Repair
More than just a daily ritual, people love to bathe. It gives us comfort and gets us moving in the morning—but faulty parts can get in the way. From rain to spray, mist to massage, the way your water flows can make or break your bathing pleasure. Luckily, we can be there in no time with a quick and easy fix. Contact us today to discover more about our shower and bathtub repair service.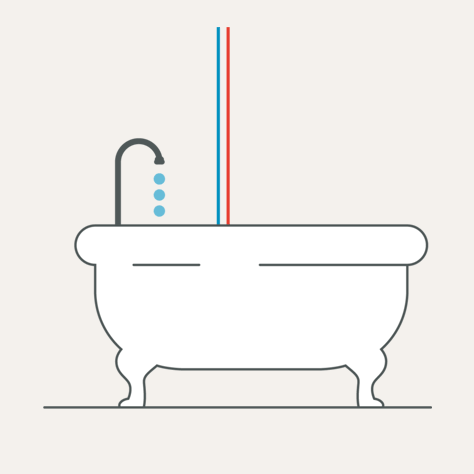 Common Shower & Tub Problems
Leaking valves
Dripping shower heads and bathtub faucets
Slow drains & standing water
Like any appliance or product, bathtubs and showers need routine maintenance to keep them looking and performing great. Left unresolved, improperly installed or maintained bathroom plumbing can result in more than just a shower or tub that isn't working up to snuff. It can cause water damage in the areas around and below your bathroom as well. Let's take a closer look at some of the common plumbing issues with showers and tubs.
Leaking Shower Heads, Shower Handles & Bathtub Faucets
If you notice water dripping or draining from the shower head, handles or bath faucet, there's likely a problem with the valve. This usually occurs when seals have become worn, damaged, or clogged with deposits. And while you may think that a dripping head or handle trickling down into the drain is no big deal, you may be surprised to see how much higher your water bill is on its next billing cycle. What's more is that the valve may also be leaking inside of the bathroom wall, which can lead to mold growth and structural damage over time. We'll conduct a thorough inspection to help you understand the extent of the issue. For minor leak repairs, we'll simply remove the fixture and replace the valve and washer.
Slow Drains
Slow tub or shower drains are commonly caused by hair, soap scum and other debris that has built up in your plumbing. While you can attempt to troubleshoot this issue yourself, store-bought chemical drain cleaners can damage your plumbing and lead to more extensive bathtub repair in the long-term. A plumber's snake is usually the safest option.
Proper Shower Installation
A sure-fire way to avoid many future plumbing issues in your bathtub or shower is to ensure that the plumbing is installed correctly in the first place. So if you're renovating or remodeling a bathroom, contact a professional to perform the plumbing work – it could save you a lot of hassle in the long run.
Shower Head Replacement & Other Upgrades
Beyond replacing bathtubs or water lines, there are some interesting features you can consider, such as fancy temperature gauges that can be automatically set at your desired level to ensure consistent, heated water. You also have a variety of shower heads to choose from: hand-held sprays, different spray patterns, even bluetooth shower speakers that connect to your phone. We're here to help you navigate the options that will turn your bathing experience up a notch.
Contact Us Today
For more information on bathtub and shower repair and installation, contact Fix & Flow today.