Privacy Policy
Overview
Fix & Flow, LLC. ("Fix & Flow Plumbing Co.", "Fix & Flow", "we", "us" or "our") is committed to protecting the privacy of personal information of identifiable individuals who visit the www.fixandflow.co website (the "Website"). This privacy statement describes Fix & Flow's Website privacy practices.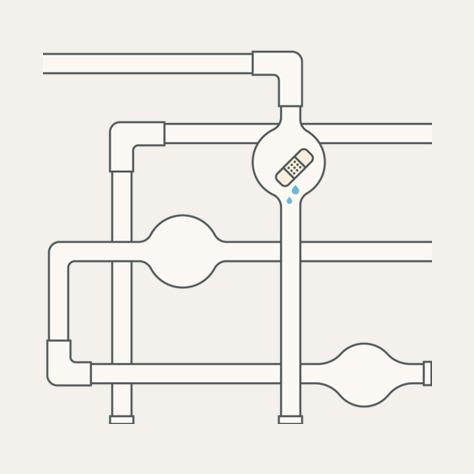 CONSENT AND INFORMATION COLLECTION AND USE
We may ask Website visitors for certain information to access specific Website content (e.g. schedule or request appointments, newsletters, etc.). That information includes, but is not limited to: name, address, telephone number, or e-mail address. By providing personal information to us, you voluntarily consent to the collection and use of such personal information as specified in this Privacy Policy for the following purposes:
To provide services to you and to improve the quality of the Website,
To provide information to you so that you may use the Website more effectively,
To assess service levels, monitor traffic patterns and gauge popularity of different service options,
To carry out our marketing activities;
and To enforce this Privacy Policy.
Fix & Flow does not sell, rent or lease its customer lists to third parties. We may occasionally communicate with you regarding our products, services, news and events. You have the option to not receive this information. We provide an opt-out function within all e-mail communications of this nature. If you no longer wish to receive e-mails from us, you may either unsubscribe by clicking on the "unsubscribe" link at the bottom of each e-mail we send, or you may e-mail us at marketing@fixandflow.co and include the word "unsubscribe" in the subject line.
Correcting And Updating Your Information
Please note that users can not update or delete information previously submitted via the Website. If your information (such as your e-mail address) should change, you may re-submit a registration form or request your changes by email to marketing@fixandflow.co.
Links
Fix & Flow's Website may contain links to other sites and we are not responsible for the privacy practices or the content of such sites. We encourage you to read the privacy policy of linked sites. Their privacy policies and practices may differ from our policies and practices.
Use of Cookies
We use cookies and log files to track user information and deliver relevant content and services to you. Cookies are small amounts of data that are transferred to your web browser by a web server and are stored on your computer's hard drive. Standing alone, cookies do not personally identify you. They merely recognize your web browser. Unless you choose to identify yourself to Fix & Flow, either by responding to a promotional offer, opening an account, or filling out a Web form, you remain anonymous to Fix & Flow.
Third-Party Cookies
From time-to-time, Fix & Flow engages third parties to track and analyze usage and volume statistical information from individuals who visit our Website. Fix & Flow may also use other third-party cookies to track the performance of our advertisements. The information provided to third parties does not include personal information, but this information may be re-associated with personal information after we receive it.
Fix & Flow also contracts with third-party advertising networks that collect IP addresses and other Website navigational information on our Website and emails and on third-party Websites. Ad networks follow your online activities over time by collecting Website navigational information through automated means, including through the use of cookies. They use this information to provide advertisements about products and services tailored to your interests. You may see these advertisements on other Websites. This process also helps us manage and track the effectiveness of our marketing efforts. To learn more about these and other advertising networks and their opt-out instructions, click here.
Using tools provided by Google, we may create cross-device associations for the purposes of ad personalization. You can choose to manage how your data is collected and used by Google. Such data may be accessed and/or deleted by end users via Google's My Activity controls.
Security
We will strive to prevent unauthorized access to your personal information, however, no data transmission over the Internet, by wireless device or over the air is guaranteed to be 100 percent secure. Fix & Flow uses a variety of security technologies and procedures to help protect your personal information from unauthorized access, use or disclosure. Fix & Flow secures the personally identifiable information you provide on computer servers in a controlled, secure environment, protected from unauthorized access, use or disclosure. We will continue to enhance security procedures as new technologies and procedures become available.
Contact Us
If you have any questions or suggestions regarding our Privacy Policy, please contact us marketing@fixandflow.co.