Sink & Faucet Repair
Sinks are essential to a properly flowing home, and they're more complicated than meets the eye. The vessel, faucet, disposal and drainage all work together to help you eat, wash and drink on a daily basis—and these habits differ from household to household. In addition to repairing the damage, our technicians know how to ask the right questions to get you top-notch replacement parts that fit your lifestyle. Contact us today to discover more about our sink & faucet repair services.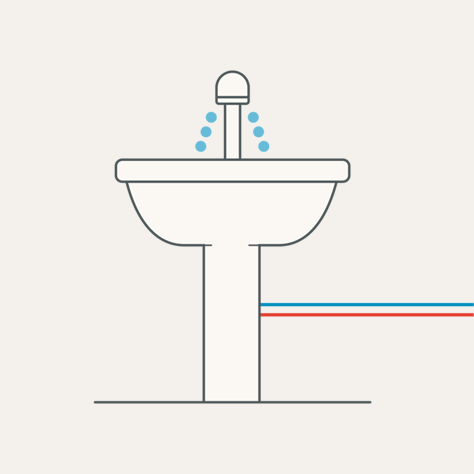 Common Sink Problems
Loose or leaking faucets
Leaking or jammed disposals
Leaking waste lines
Faucet and Sink Installation
Looking for a sink replacement or faucet upgrade? They can each get pretty fancy. There are many advanced functions like hands-free hoses and different spray patterns as well as numerous finishes and shapes to choose from. Whether you care more about style or function, we can help you select a quality-made sink or faucet that meets your needs.
Sink Faucet Repair
Leaking faucets are one of the most common sink repairs we see in residential properties. If you have a leaky faucet that drips at a rate of one drop per second, you could be wasting more than 3,000 gallons of water per year. That's enough water for 200 "extra" showers. It's a huge waste of water, that will result in a much higher water bill. Faucets can drip for several reasons, but they normally involve corrosion or damage to internal components that help seal water from entering the faucet when it's in the off position.
Leaking Sink Drain
Are you noticing dampness or water under your kitchen or bathroom sinks? Immediately place a bucket underneath where it's leaking and clean up any excess water to prevent structural damage or mold growth. We'll help you get to the bottom of what's causing the issue. Usually, the issue is something simple, like a loose compression nut. However, in other situations, re-plumbing the area under the sink may be necessary.
Garbage Disposal Repairs
Garbage disposals are a workhorse kitchen appliance, but they are not immune to failure. Whether it's from old age, excessive use, or disposing of food waste that shouldn't be processed, leaking or loose disposals are not uncommon. For some garbage disposal issues, resealing or tightening may be sufficient to get it back in working order. If your disposal is leaking from the bottom, it is a sign of unit failure and will almost always need to be replaced. At Fix & Flow, we'll always try to repair your garbage disposal before replacing it.
Replacing Your Garbage Disposal
New disposals vary in more ways than one. They come in a range of size, horse power, and sound insulation options. Choosing a replacement part that truly fits takes careful consideration of your kitchen habits. We can help recommend the best garbage disposal for your home.
Contact Fix & Flow Today
Whether you need help with sink or faucet repair, or would like to ensure any new faucets are professionally installed, contact Fix & Flow today. As residential plumbing experts, our services range from identifying issues and making the necessary repairs to assisting homeowners in picking out new appliances that match their bathroom or kitchen style. Contact us today for more information.