It can be tough to know what to anticipate regarding the cost of plumbing. Prices for the same service can differ between businesses and even between regions. The cost of a plumbing service depends on the following:
The kind of service
The intricacy of the task
Cost of products
Location of the plumbing service
In this guide, we will look at factors that affect pricing for plumbing services in Atlanta.
Types Of Services:
There is a wide range in pricing from the most expensive to the least expensive provider. It's important to research and compare rates before committing to a plumber. One of the main factors that affect pricing for plumbing services is the type of service being performed. Hence, the price depends on what kind of plumbing service you need.
You can easily understand it through these two examples:
Fixing a leak or cleaning a drain usually costs less than more complicated ones, like fixing a sewer line.
Fixing a simple problem like a leaky faucet will cost much less than installing a new water heater.
Sewer and Drain pipe repair services can vary in cost depending on the severity of the issue. The level of sewer drain pipe failure determines the effects on expenses. Gas leak repair costs also vary by a degree.
If the stuck valve is damaged, that increases the cost of water heater repair services. Some problems with a water heater cost more to fix than others.
Fix and Flow in Atlanta provides plumbing services at cost-effective prices. We always value our customer's satisfaction.
Difficulty Of The Job
It's important to be honest about what you need and to get quotes for services that fit your budget. Additionally, the difficulty of the job also affects pricing. For example, a plumbing job that requires extensive excavation will likely cost more than a task that can be done with minimal excavation. But if you have a lot of small tasks that need to be done, it will be cheaper to hire Fix and Flow plumbing service to do them all.
Also, if you hire our team of professionals for a bigger job, you might get a discount. We provide an average range of costs for your plumbing services.
Cost Of Products
Another important factor that affects pricing is the cost of products. The cost of products can vary depending on the type of technology and the quality of the materials used.
The products with higher technology require longer to install, increasing labor costs for plumbers. For example, a water heater that uses natural gas will generally be less expensive than one that uses electric power.
Location Of The Plumbing Services
The location of the job can also affect pricing. Plumbing services in a rural area cost less than services in an urban area due to the increased cost of labor and materials. Plumbing prices in Atlanta vary based on your proximity to the nearest plumber. They'll charge extra if you're far from a company's headquarters.
However, Fix and Flow don't follow this principle. Our pricing does not vary based on the location. We are available 24*7 in Atlanta to serve you at affordable costs.
Average Costs Of Common Plumbing Services
To give you an idea of what to expect in terms of pricing, here is an average range of costs for some of the common plumbing services in Atlanta:
Basic leak repair: $149+
Drain cleaning: $99 to $540
Water heater replacements: $1600
Sewer line repair: $1150+
Toilet repair services: $125 – $375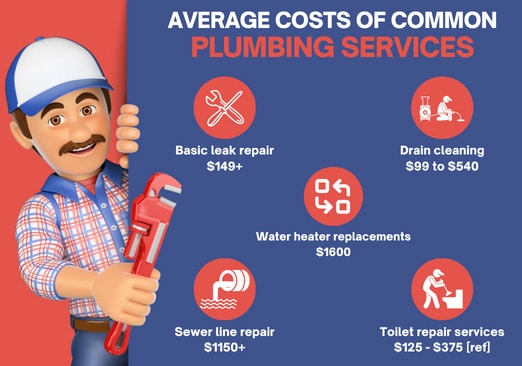 It is important to note that these are just averages. The problem's actual cost depends more or less on the specific circumstances.
How To Choose A Plumbing Service In Atlanta?
When choosing plumbing services, it is important to ensure reliability. Whether it's a brand-new build or a simple fix, plumbing is among the most vital services you'll ever have in your house. If you're looking for a plumbing contractor, be sure to get someone who has expertise.
Plumbing agencies provide experienced plumbers with a track record of success. Ask the firm to provide a compiled list of all the customers they have ever had. You may verify this by reading the feedback posted on the business's website. Because of the diligence and expertise with which they performed their duties, they have remained successful for so long.
Choosing a reliable plumbing service is crucial if you care about protecting your house and possessions. This is because Fix and Flow plumbing services professionals can stop serious problems from worsening in your house.
Additionally, you should read reviews and ask for references from past clients. It will help if you are looking for plumbing services that can be trusted to do the job properly. It is also a good idea to get multiple quotes for comparison.
Conclusion
In conclusion, employing a professional plumbing service is crucial for maintaining the health and safety of your property. Knowing the average costs of popular plumbing services and the factors determining the price can help you decide.
In addition, if you maintain your plumbing systems and treat problems as they develop, you can avoid expensive repairs in the long term. It takes time to find the right plumbing contractor who cares about what's best for their customers. So, while choosing a plumber, we must consider what we've discussed.
At Fix and Flow, we know everyone has a unique financial situation. We are delighted to work with you to find a solution that meets your requirements. Our team provides a comprehensive selection of plumbing services.
Get in touch with us as soon as possible to get started. Simply give us a call to take advantage of our free consultation for any of our plumbing services.